Things I Realised I Want to Wear Upon Seeing the Rihanna BBHMM Video
So there's been eeeeeendless debate around whether Rihanna's B**** Better Have My Money video was derogatory to women, sets back feminism, is racist, etc, etc. But I'm not concerned with all those socio-politics, mainly because it's all tripe and just another attempt to knock down a powerful woman, and a black one at that...OK so maybe I am a little concerned. But for now, for the purposes of this post, I'm just saying - HELLOOOOO, did you even like, SEE all the amah-zing fashun? It's been three weeks since the release now and I'm still obsessed, mostly for sartorial reasons. It definitely makes me like the song even more. I was hooked from the moment I saw this video, not only at the fantastic multi-textual references and sheer balls of the thing, but just gawping as each outfit got better and better. No-one, and I mean no-one - not even you Beyonce, you don't have anywhere near enough edge - could have pulled off any of these outfits the way RiRi did. And exactly how does she manage to set so many crazy, unprecedented trends of her own while somehow still looking fashionable? Confidence, that's how. She is just the most incredible source of inspiration.
So.....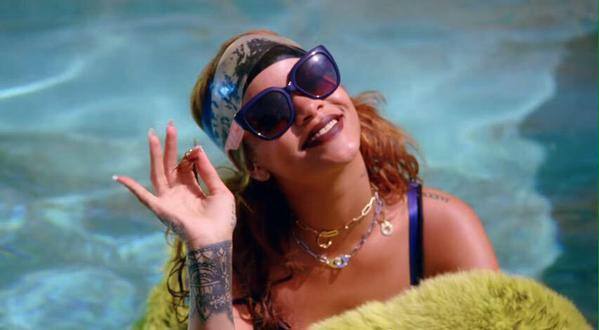 I now want to wear a lime green stole with a royal blue bra, latex headband (Vex Clothing) and matching oversized sunglasses (Christian Dior) in the next pool I enter. Heck, in every pool I ever enter ever again.
I want to wear a paisley bandana with a pinstripe full-length coat (Ulyana Sergeenko), baggy knee-high leather brown boots (Vetements), too much eyeliner and brown lipstick. And I want to wear them sat on the bonnet of a very cool getaway car.
Oh, and add an oversized newsboy cap when it gets cold/I've got wives to surreptitiously kidnap.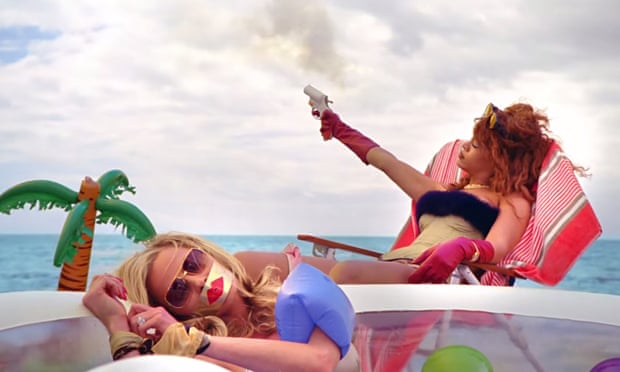 I want to wear a fur-lined corset (Cadolle) and animal-print knickers as a swimsuit, with long pink gloves, perspex-tongued patent court shoes (Maison Margiela) and a fur-trimmed plastic mac (Wanda Nylon).
I want to wear a patchwork fur coat, knee-length denim skirt and patchwork denim boots (all Tom Ford), and a black bustier (Maison Cadolle).
I want to wear a perspex dress when I'm next feeling particularly vengeful (Vex Clothing).
I want to be able to wear lime green PVC OTK boots with a furry coat of the same colour, a green lettered choker, and matching goggle-like sunnies (all Versace) to top off the whole Kermit/Lil Kim vibe.
But I definitely can't.
Hats/bandanas/plastic headbands off to you RiRi. You're still the queen!