Nailing It
So I've been amusing myself with nail art this Easter weekend, after being inspired by a lot of fantastic Instagram accounts I follow. I love that nail art is cool again, it takes me back to my crafty (in the good way) teens and perhaps because of that, it's so therapeutic (OK and at times infuriatingly patience-wearing) and so satisfying - you can admire the end results any time you like! Having a bad day? Just take a moment to behold those ten works of art you're displaying on your person, and boom - instant swellings of pride!
Despite just winging it and seeing what happened after buying
some nail art gems from Primark (£1 for a wheel, bargain!), mine fortunately and inadvertently turned out like Easter eggs - hurrah!
I thought I could be clever and skip the tools but alas, this was not without its problems as much time was spent reapplying loosened gems which kept sticking to my fingers and requiring more reapplying, which in turn encourage lots of smudging and repainting - I've since learned that you need a cuticle stick and nail glue for this, rather than trying to stick it to the wet varnish. This will be a lot better as you can get all the varnish dried first and then do the gems in the next stage so as not to compromise your artwork. (Yes, I do take my work very seriously, and what.) So here are my bargainous Amazon buys to help me with my next nail-based endeavour:
Nail Art Pen by eforlife8, £1.99
15 Piece Nail Art Brush Set by WAWO, £1.52
Here are a few further wares I've been perusing to further my quest to achieve nail nirvana:
ASOS - Erm, yum!!
ASOS - seriously, could I maybe just have a small taste?!
ASOS - so cool, love these 50s cereal-inspired patterns we're seeing everywhere, vintage never goes amiss in my book!
ASOS - because you need to atone for your sins what with all that nail glue!
ASOS - would look great with a Jeremy Scott jumper
ASOS - I am obsessed with all things Frida Kahlo and sugar skull-adorned
ASOS - so fun, think of the patterns! Glitz fit for summer, that's what I like to see
Beautybday - Nails Inc Tan Leather & Skulls Set, £9.50 - love how this lets you adopt a bit of bling but in a grown-up way with the sophisticated colours; would be perfect for office-to-bar on a Friday.
Beautybay - Pineapples Have Feelings Too, £5.97 - adore this, I'm a fan of yellow shades this time of year but rather than sticking to block colours, I love a bit of something extra like these colourful sparkles, which are a great refreshing take on glittery bits which you'd traditionally only see around Christmastime in the gold or silver variety.
Beautybay - Red Carpet Manicure Professional LED Light, £44.96 - I am so coveting this, am I getting carried away subconsciously planning a sideline in nail art? Though if I'm really wanting to justify the purchase, it would still save much precious drying time if I just used it on myself...
Feelunique - Elegant Touch Speckled Eggs Limited Edition False Nails, £7.95 - I missed a trick with these at Easter didn't I! May have to stash them for next year, although, eggs are a great source of protein the whole year round...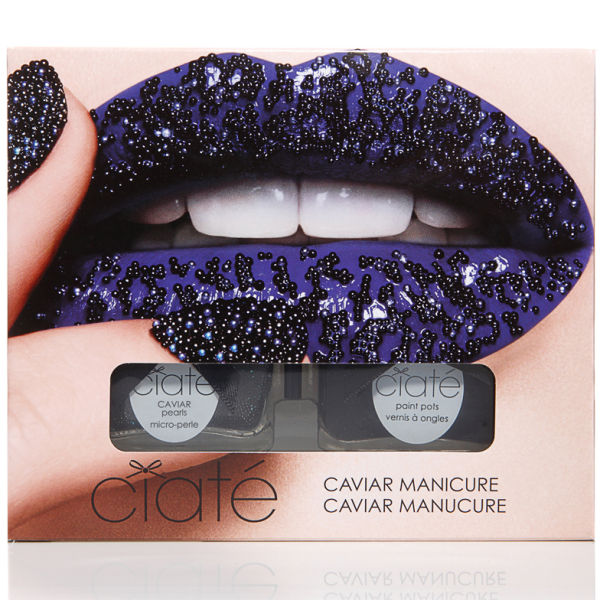 Look Fantastic - Ciate Caviar Manicure Black Pearls, £12.47 - these are so decadent, they could bring a touch of class to any look and still make you feel like positively princess-like!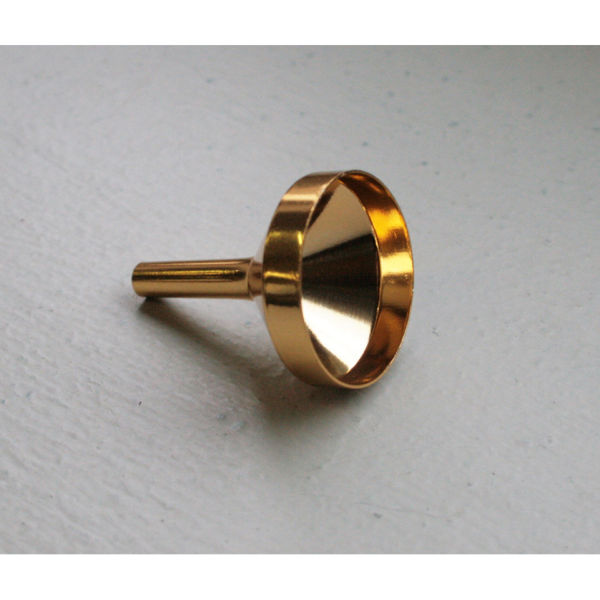 Look Fantastic - Layla Cosmetics Funnel for Caviar Effect, £5 - this is a brilliant device for neatly applying the above beads!
Here are a few choice nail maestros I'd like to feature for their talon-based talents:
Mynxii White, new ultimate style crush and Beauty Editor of Schon! magazine
3D Art by Wah Nails
These Rihanna-inspired pearl nails from Pinterest are to die for!
Increds Halloween nails from thefashionspot.com
I could look at The Illustrated Nail Instagram account all day - these London-based designs are so cute!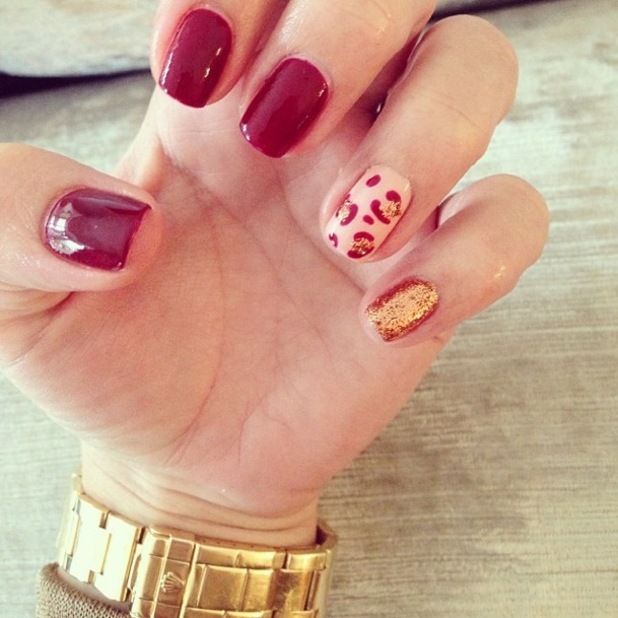 Lovely subtler take on leopard nails, these owned by none other than TOWIE's Billie Faiers would you believe...I'm really into the trend of just having one or two feature nails at the moment.
I could go on as there are so many genius nail artists out there now, you could while away hours admiring them all on Instagram and Pinterest. But I'm going to continue with my own manicure challenge and will post the results of my next efforts - I'm off to Aintree tomorrow so I see an equestrian theme in the offing!
N.B. I didn't quite manage to paint on some gee-gees but I ran with a theme I realised I'd subconsciously nabbed from a certain Julie Roberts film...